Introducing Our Factory Equipment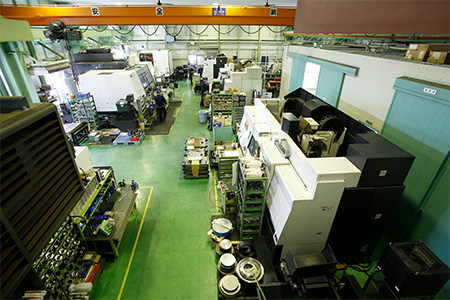 The basic concept of "One off manufacturing" is the "self contained" team work for the typical manufacturing work flow such as design, development, milling, machining, grinding, wire EDM, heat treat, finishing process and inspections.
The machines are set up to be worked on by the teams of minimum number of employees so they motivate each other for the best and efficient performance. This allows us the best production system to cover various types of work in small quantity.
Toyota Tsutsumi factory Main equipment list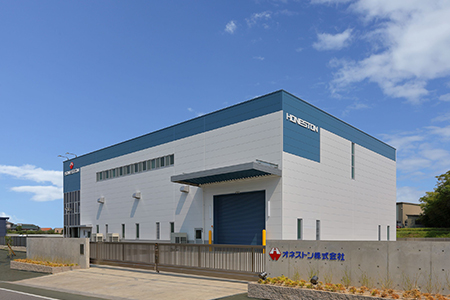 Double-Column Machining Centers(5-face Machining)MCR-A5CⅡ 25×40 (OkumaCorporation)
Double-Column Machining Centers(5-face Machining)MCR-A5CⅡ 30×50 (OkumaCorporation)
Vertical Machining Centers MILLAC1052Ⅶ(OkumaCorporation)
Vertical Machining Centers ACE CENTER MB-66VB(OkumaCorporation)
NC surface grinder PSG-65EXB(Okamoto Machine Tool Works, Ltd.)
Wire-cut Electric Discharge Machine α-1iE(Fanuc Corporation)
Radial Drilling Machine
CAD/CAM iBlue CLIKS(ARGO GRAPHICS)
CAD/CAM CAM-TOOL(C&G SYSTEMS INC.)
CAD/CAM MarkⅡ(SYSTEM-I Inc.)
CAD CATIA V5(ARGO GRAPHICS)
CAD CADmeister(UEL Corporation)
AutoForm(AutoForm Japan)
Komaki factory Main equipment list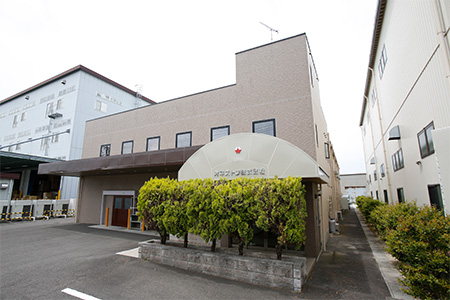 CNC JIGBORER YBM 640V Ver.III(YASDA PRECISION TOOLS K.K.)
Vertical Machining Centers VERTICAL CENTER SMART 530C
(Yamazaki Mazak Corporation)
Double Column Machining Center FJV-250Ⅱ(Yamazaki Mazak Corporation)
Vertical Machining Centers ACE CENTER MB-66VA(Okuma Corporation)
Double Column Machining Centers V-515 40N(Yamazaki Mazak Corporation)
CNC Precision Surface Grinder TECHSTER-105(Amada Machine Tools Co., Ltd.)
CNC Precision Surface Grinder TECHSTER-64(Amada Machine Tools Co., Ltd.)
Wire electric discharge machines NA2400P(Mitsubishi Electric Corporation)
Fine Hole electric discharge machine MEMH8(Mitsubishi Electric Corporation)
Drilling machine EUD-500-3(Enshu Limited.)
Drill grinder MK-32DU(KAWARAGI)
CNC CMM Crysta-Apex C 7106(Mitsutoyo Corporation)
CAD/CAM CAM-TOOL(C&G SYSTEMS INC.)
CAD/CAM Mastercam(JBM)
Okazaki factory Main equipment list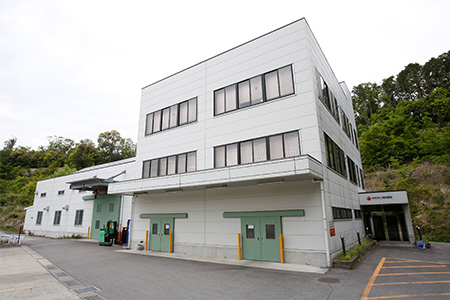 Multi-tasking machines INTEGREX400-III(Yamazaki Mazak Corporation)
Multi-tasking Machine INTEGREXi-200(Yamazaki Mazak Corporation)
Multi-tasking Machine INTEGREX100-ⅡY(Yamazaki Mazak Corporation)
Multi-tasking machines INTEGREX200-III(Yamazaki Mazak Corporation)
Vertical Machining Centers MB-80V(OkumaCorporation)
Wire electric discharge machine MP2400(Mitsubishi Electric Corporation)
Fine Hole electric discharge machine RH3525(Ryoden Koki Engineering Co., Ltd.)
NC Precision Surface Grinder PSG106CA1(OkamotoMachineToolWorks, Ltd.)
CNC Precision Surface Grinder TECHSTER-64(Amada Machine Tools Co., Ltd.)
CNC cylindrical grinder CE4P-50(Toyoda Machine Works, Ltd.)
Multi purpose lathes LR-55A(Techno Washino)
Multi purpose milling machine VHR-A (Shizuoka Machine Tool Co., Ltd.)
Multi purpose milling machine YZ-8C(Yamazaki Giken Co., Ltd.)
Cutting machines(Heiwa Technica Co., Ltd.)
Band saw machine H-250SAII(Amada Co., Ltd.)
Hardness Testing Machine HM-102(Mitsutoyo Corporation)
CNC CMM Crysta-Apex C 7106(Mitsutoyo Corporation)
3D Digtizer ATOSⅡ Triple Scan(Marubeni Information Systems)
CAD/CAM MarkⅡ(SYSTEM-I Inc.)
Example of main equipment
CNC JIGBORER YBM 640V Ver.III
(YASDA PRECISION TOOLS K.K.)

Wire electric discharge machines NA2400P
(Mitsubishi Electric Corporation)

Multi-tasking machines INTEGREX400-III
(Yamazaki Mazak Corporation)

CNC CMM Crysta-Apex C 7106
(Mitsutoyo Corporation)

Double-Column Machining Centers MCR-A5CⅡ
(Okuma Corporation)

Vertical Machining Centers MILLAC1052Ⅱ
(Okuma Corporation)

Vertical Machining Centers MB-66VB
(Okuma Corporation)